Sheboygan firms add to the perks, fun on the job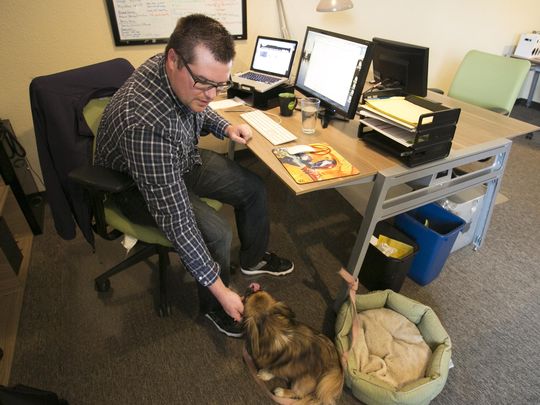 From day one, James Grunewald and Jason Irish knew their small Sheboygan-based digital ad agency would have to take extra steps to compete with larger firms from Chicago and Milwaukee in attracting and retaining top talent.
A decade in, they've held their own by creating a progressive atmosphere at Dynamic, where employees bring their dogs to work, play video games to relax, hold social events, play their own music in the office and have the ability to work from home.
"If you don't have happy employees, you're not going to have a happy environment," said Grunewald, the firm's co-owner and director of digital strategies.
The company is among a growing number of local businesses putting a premium on work culture and other amenities in an effort to attract and retain talent in an exceedingly tight labor market.
Such efforts are being highlighted as part of the ongoing YP Week, which includes events in 15 cities throughout Wisconsin through April 30 – including Sheboygan – aimed at encouraging more young professionals to live and work in the state.
"This is a conversation being held at every roundtable discussion we host and every meeting we have," said Betsy Alles, executive director of the Sheboygan County Chamber. "It signals a whole new era for our businesses in looking at culture, redeveloping and rethinking benefits and the work environment."