Wisconsin's hidden tech gems emerging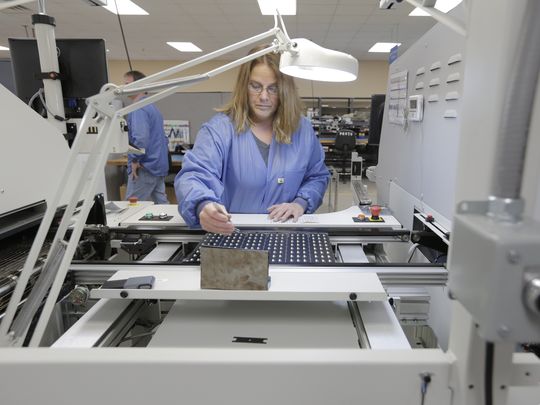 Cory Ott switched his major from chemical to electronic engineering at a time when exciting things were happening in the consumer market.
Along the way, his notions about Wisconsin's tech industry rebooted. While manufacturing and agriculture quickly come to mind when thinking about the state's economy, technology firms are also a major driver of economic growth and job opportunities.
"At college, when you saw (tech) companies recruiting at career fairs, you found out a lot of them were from this area," said the 2011 University of Wisconsin Madison graduate. "Once you start actually looking, you uncover that there are a lot of places that are non-manufacturing jobs and are more into the tech sector."
A persistent misnomer is that tech jobs are the sole domain of Silicon Valley firms. It's not hard to understand why. Ott switched majors in 2007, when the first iPhone was released by Cupertino-California based Apple.
Much closer to his hometown of DePere, he works as a project manager who writes firmware (computer code that makes a chip work) for Surface Mount Technology in Grand Chute.
Firms such as Surface Mount are one reason why Wisconsin was recently upgraded to "Innovation Champion" by an influential trade association. The expanding market tied to devices interconnected by the internet is expected to further the need for people with skills rooted in tech..
One of the issues dogging the state is defining the sector. The size of Wisconsin's tech workforce ranges from 97,602 in a report from CompTIA to 227,980 in a report from the Consumer Technology Association.
Using the CompTIA figures, the state saw an increase of almost 4,000 jobs – a roughly 4 percent increase – between 2014 and 2015. Information technology services account for almost 21,000 of those jobs followed by engineering services, telecommunications, software publishing and internet services.
Gary Shapiro, president and CEO of the Consumer Technology Association, said information and cyber security are highly sought job skills that not only pay well but are expected to generate a massive need for workers in the future. Data analysis, electrical engineering are also in need of qualified employees.
"In Detroit there are several thousand jobs that are open for software engineers at car companies," Shapiro said. "It's huge. There are literally millions of jobs open in the United States, now."
That includes Wisconsin.
Careers in information technology are listed among the Wisconsin Department of Workforce Development's hot jobs. The department expects the sector to see a 15 percent change in employment (including positions like software developers and computer system analysts) from 38,665 jobs in 2012 to 44,955 jobs in 2022.
Tech jobs, on average are also paying higher than other private sector jobs. CompTIA puts the average wage for the state's tech sector at $77,600, more than $33,000 higher than average private sector wages. The national average for tech sector jobs is around $105,400.
"We're always looking for engineers, and I think everyone is," said Paul Walker, director of business development at Surface Mount. "We've been doing a much better job with colleges, doing internships, and we have a pretty good success rate of attracting younger engineers. The problem we have is holding on to them."